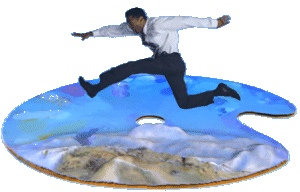 Cutting edge research demonstrates that superior performance is directly linked to exercising emotional competence at work. Emotional competence is the capacity to align goals, actions and values. Worldwide studies show that from frontline workers to CEOs, people who have developed these competencies produce dramatic bottom-line results.
This interactive fitness series provides practical tools for exercising self-leadership and interpersonal effectiveness, the critical skills for managing transitions and thriving in today's demanding world of work. After an initial fitness assessment, the series features five workouts, each one experiential, high-energy and "just in time." These workouts range from 90 minutes to three hours in length depending on your needs. The sessions are co-facilitated with exciting presenters such as Ann Hibbard, Sandy Crowe, Jackie Jordan Davis, and Stuart Heller.
EDIN Workout Series
Workout #1: Self-Awareness: Hello! Are You Awake?
Know yourself. Be aware of your emotions without being carried away by them. Identify the moods you experience at work and learn strategies for shifting from negative, unproductive moods to positive, productive ones.
Workout #2: Emotional Management: No Whine with Lunch
Manage your feelings. Recognize your reactions to stress, chaos and conflict. Overcome self-sabotaging behaviors so you can be at your best during difficult times.
Workout #3: Self-Motivation: Go for the Bold
Set goals and accomplish them. Make lemonade out of lemons. Pursue goals with a positive outlook despite obstacles and setbacks.
Workout #4: Empathy: I Feel Your Pain and Your Gain
Understand others. Anticipate their concerns and connect with them to meet mutual goals and needs.
Workout #5: Social Effectiveness: Shall We Dance?
Lead, collaborate, and inspire others. Exercise flexibility in the midst of conflict and continuous change.
"To my delight, I recently attended several of your emotional fitness workout sessions at NASA Goddard Space Flight Center. Rarely does one have the opportunity to learn significant life lessons in a fun, yet challenging fashion."
- G.Williams, Chair, Financial and Resources Management Training Committee

"Work can be so stressful at times. This approach to learning is so valuable that one can't help but benefit from the experience."
- S. Scibek, Director of Human Resources, National Electrical Benefit Fund
12 Questions to Spark Emotional Fitness
1. Who are you beyond your credentials and job title?

2. What matters to you?

3. What lessons have you learned from the transitions you have made in your life?

4. What are you passionate about?

5. What makes you worth trusting?

6. How do you get results?

7. How safe is it for you to be at ease when you are working in teams?

8. What fires your creativity?

9. What have you learned, dreamed, or risked?

10. How connected do you feel to other people?

11. How do you handle decisions with which you do not agree?

12. What do you do when you make a mistake?

EDIN Associates · 2827 29th Street, NW, Washington, DC 20008-4111 · 202-362-9756 · jwangler@edinassociates.com
Copyright © 2001 by EDIN Associates. All rights reserved.
tropikos Website Development · www.tropikos.com · hurstd@tropikos.com