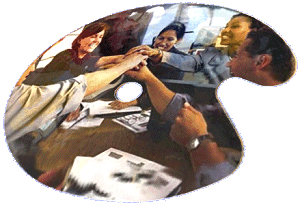 Organizations are looking more and more to teams to make decisions and accomplish tasks. We design customized team retreats to reflect your teamís specific needs. The purpose of team building is to help a group become a cohesive unit in which members share the same expectations, support one another and respect each otherís individual differences. Team building focuses on the performance and well-being of a team with the objective of promoting sustained team learning and effectiveness.
You may want to:

∑ Clarify goals, roles and responsibilities

∑ Develop guidelines for effective interaction

∑ Define common values and operating philosophy

∑ Determine vision and mission

∑ Understand differences in work styles and preferences

∑ Utilize the talents and resources of team members

∑ Overcome communication breakdowns

∑ Identify success criteria and measure results

∑ Increase trust and promote collaborative behavior

∑ Plan for continuous improvement of services

∑ Handle internal and external pressures

∑ Accomplish more in less time
We use a systematic process to support our clients in building and maintaining high performing teams. The process involves collecting data from team members to ensure that the session reflects needs and desired outcomes; creating a custom-designed program; conducting the program; and then following up on a periodic basis.

EDIN Associates ∑ 2827 29th Street, NW, Washington, DC 20008-4111 ∑ 202-362-9756 ∑ jwangler@edinassociates.com
Copyright © 2001 by EDIN Associates. All rights reserved.
tropikos Website Development ∑ www.tropikos.com ∑ hurstd@tropikos.com