Workshop 1. Increasing Emotional Intelligence at Work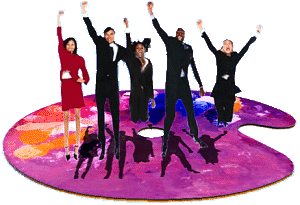 We are at the beginning of the next revolution in business. Leaders are beginning to understand the importance of both cognitive intelligence and emotional intelligence in today's world of work. According to Robert Cooper and Ayman Sawaf, "Emotional Intelligence is the ability to sense, understand, and effectively apply the power and acumen of emotions as a source of energy, information, connection, and influence." Everything important that happens to us stimulates our emotions. Emotional intelligence is what ignites creative genious, keeps you honest with yourself, and enhances good judgment.
Learn to:
· Utilize emotional competencies for bottom line results
· Increase trust, resilience, and renewal
· Develop greater self awareness
· Practice strategies using proven tools for increased competence
· Promote creativity and cooperation
· Improve team communication and productivity
Workshop 2. Coaching Skills for Managers: Bringing Out the Best In Others
The competence of coaching is emerging as second only to team leadership among superior managers. As organizations move toward increased collaboration, managers are expected to coach their staff rather than direct them. Coaching is the essence of effective performance management. It is a partnership between the coach and the employee with the purpose of bringing about greater commitment, vison and vitality to the employee's work and work environment.
Learn to:
· Communicate through powerful conversations
· Facilitate learning and growth
· Assess your own coaching style
· Develop a coaching relationship
· Use different coaching models
· Overcome performance breakdowns
· Create a climate for peak performance
Workshop 3. Team Skills: Evoking Creativity, Collaboration and Commitment
Creative people know the necessity of seeing people, listening to people, and exchanging points of view. Since new things are going on all the time, team work is critical for on-going success. Life and work are richer and more rewarding when there is a sense of community at work.
Learn to:
· Identify skills needed for leadership and membership
· Clarify roles and responsibilities
· Deal effectively with team conflicts
· Develop networks of support
· Access creativity and innovation
· Create conditions for alignment
· Engage in conversations that promote learning
Workshop 4. Thinking Together: Creative Problem Solving
This is an imaginative, spirited and practical session that invites participants to try a variety of innovative methodologies that can be easily learned and applied to personal, team and organizational challenges. Creativity is a process for solving problems effectively, for marketing services, and for developing breakthrough thinking. Training the brain to think creatively has huge pay-offs. The intent of the session is to inject the spirit of creativity into everyday work life.
Learn to:
· Create an atmosphere for expanding curiousity
· Utilize everyone's talents
· Discover creative resources to jumpstart ideas
· Develop buy-in for new initiatives
· Open minds to different ways of thinking
· Let employees be creative and cost efficient
Workshop 5. Thriving in Times of Change
Successful change efforts occur when organizations pay attention to both the task of managing the change and the process of helping employees through the different stages of transition. The result is increased performance, trust and loyalty.
Learn to:
· Assess readiness for change
· Manage stages of transition
· Communicate and share information
· Focus on essential self-care skills
· Understand the nature of change
· Utilize effective change strategies
· Access creativity
· Develop a network of support
Workshop 6. Conducting Effective Meetings
Meetings are the principal means of sharing information and making decisions. Most of the learning, planning, and doing of this world occurs at meetings. Even the most skillful facilitators can find themselves leading unproductive, sometimes painful meetings. This workshop provides managers with strategies and tools for facilitating highly participatory, productive meetings.
Learn to:
· Plan and prepare for a meeting
· Build ownership of the agenda
· Establish groundrules
· Promote discussion
· Avoid traps
· Facilitate process and participation
· Reach closure
Workshop 7. Building and Sustaining Great Places to Work
A great workplace is one where people are creatively engaged in their jobs, where there is mutual respect, and where people are treated fairly. This session includes exercises, discussions, and assessments for thinking and working together with a renewed spirit of service.
Learn to:
· Understand the relationship between the proper handling of emotions and the bottom line
· Use tools for managing conflict and preventing burnout
· Communicate effectively during change efforts
· Improve team collaboration and creativity
· Combat toxic working relationships
· Create a sense of loyalty and community at work

EDIN Associates · 2827 29th Street, NW, Washington, DC 20008-4111 · 202-362-9756 · jwangler@edinassociates.com
Copyright © 2001 by EDIN Associates. All rights reserved.
tropikos Website Development · www.tropikos.com · hurstd@tropikos.com